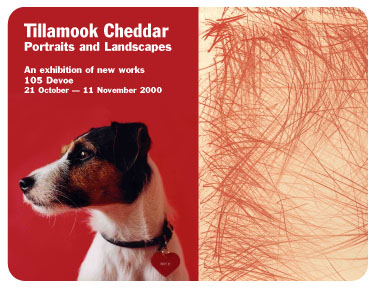 Tillamook Cheddar, Red Oasis, 2000
Red transfer paper on mat. 15" x 9". Brooklyn, NY
Tillie photo by Dirk Westphal
DOGGY POLLOCK'S 2nd SOLO EXHIBITION IN WILLIAMSBURG, BROOKLYN
Tillamook Cheddar
Portraits and Landscapes
21 October - 11 November, 2000
On view at 105 Devoe, Williamsburg, Brooklyn.
Portion of proceeds to benefit B.A.R.C. Brooklyn Animal Resource Coalition.
A Jack Russell Terrier bitch born 19 January 1999, Tillamook Cheddar made a name for herself with her first one-dog exhibition last October at teethovenstudio in Williamsburg. Since then she has continued to work steadily, relocating from her home in Williamsburg to Prospect Heights, Brooklyn. One year after her debut, with her artwork now included in numerous private and corporate collections, Tillie returns to her stomping grounds the darling of the New York art world.
Portraits & Landscapes, presented by 105 Devoe in conjunction with tillamookcheddar.com, is a show of all new work by Tillamook Cheddar. The works represent many of the kind and generous people she has met, and the magical places she has experienced in the past year. Monochrome and duochrome clawstrokes and tooth markings ramble across contrasting solid-color mat pieces to convey the kinetic expressiveness which has become Tillamook Cheddar's signature.
Tillie's body of work continues to expand, as she gears up for two other exciting exhibitions: her first Manhattan solo show, opening at the beginning of December 2000, and a collaboration project with various New York human artists, to begin in early 2001.