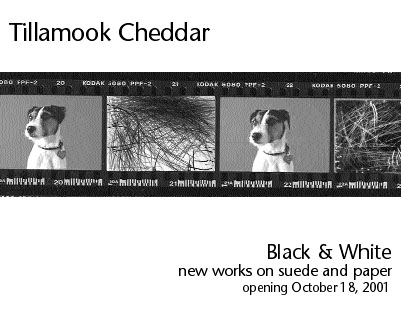 BITCH OF THE ART WORLD
LAUNCHES EXHIBITION TO BENEFIT
ASPCA DISASTER RELIEF FUND
New works on suede and paper from New York's favorite canine abstract expressionist artist.
BLACK & WHITE (and Red, White and Blue)
42nd St. Gallery
129 West 42nd Street
New York City
October 18, 2001
Opening Reception Thursday October 18 7—9pm
A Jack Russell Terrier bitch born January 19, 1999, Tillamook Cheddar is taking the art world by storm. This is her fourth solo exhibition in New York City.
BLACK & WHITE, presented by tillamookcheddar.com in conjunction with Tilly Goes Bust Productions, Dogs with Jobs, and the ASPCA, is a vital selection of new drawings by Tillamook Cheddar. For the bulk of her new works, the artist limits her pallette to black and white. Red and blue have been added in the recent creation of a series of newly inspired interpretations of the American flag.
Fifty percent of all sales will be donated to the ASPCA Disaster Relief Fund.