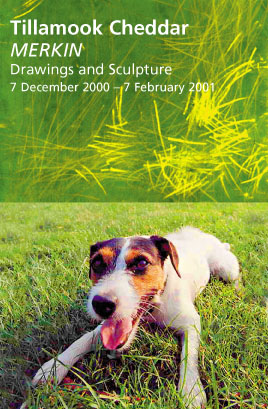 Tillamook Cheddar, Prospect Park IV, 2000
Transfer paper on suede mat, 8"x10"
Brooklyn, NY. Tillie photo by Dirk Westphal.



BITCH ARTIST'S FIRST SOLO SHOW IN MANHATTAN


MERKIN
176 Grand Street, NYC

7 December 2000 - 7 February 2001

New works on suede from New York's favorite canine abstract expressionist artist, Tillamook Cheddar, aka Tillie.

A Jack Russell Terrier bitch born 19 January 1999, Tillamook Cheddar is taking the art world by storm. Coming off a nearly sold-out exhibition last month at 105 Devoe in Williamsburg, Brooklyn, Tillie makes her mark in Manhattan with a showing of her current works at 176 Grand.

MERKIN, presented by 176 Grand in conjunction with RICE, – and tillamookcheddar.com, is a vital selection of new drawings and sculpture by Tillamook Cheddar. The artist explores the medium of suede mat board as a platform for her vibrant color transfers, and lends her toothy touch to one of America's most enduring icons, the baseball.