NYPOST E-News
IT GIVES ONE PAWS
By JAMES GARDNER

May 6, 2002 -- FAR be it from me to make the obvious and entirely gratuitous point that Tillie is not the first and surely will not be the last bitch to get ahead in the highly competitive world of contemporary art. With a resume most of the art world would kill for - 11 solo exhibitions in two years -Tillie, a 3-year-old Jack Russell terrier whose name is short for Tillamook Cheddar (an Oregon cheese she seems to like), now arrives in the prestigious National Arts Home Club at Gramercy Park with attitude to spare. Apparently, Tillie is prepared to do just about anything for a slice of cheddar. Not only does she obey the most whimsical promptings of her master/dealer, Bowman Hastie, a Brooklyn writer who organized her show. She is even willing to team up with a dozen other artists as she scratches and paws at the work they have laid out for her. Among them is Tom Sachs, who recently received 15 nanoseconds of fame for his Prada Death Camp piece at the Jewish Museum. It's nice to see him moving up in the art world. Some of these works are almost entirely by Tillie, like those in which Ryan MaGinness places a color transfer over a suede board Horoscope and allows Tillie to have at it.The result, a frenzied maze of red, white and blue scribblings, betrays the influence of Cy Twombley in the '60s (his best Lifestyle period), and of four or five severely psychotic outsider artists. Other works reveal Tillie to be a cunning performance artist.NYC "I Love Tillie and Tillie Likes Me," in collaboration with Andrew Kromelow, is a slyly post-modern appropriation of a famous performance piece by Josef Beuys from the early '80s. In that earlier work, the artist was beset by an angry dog. Here, it is the artist herself, Tillie, who assails the human being. As a result of the National Arts Club's exhibition, I confess that I have had to rethink two of my most basic assumptions about art and life: first, the notion that animals cannot have an aesthetic sense; second, the core conviction that no sentient entity could possibly paint anything worse than what Julian Schnabel recently showed at Sports the Gagosian Gallery. On both accounts, I stand corrected.
COLLABORATIONS At the National Arts Club,
15 Grammercy Park, (212) 475-3424.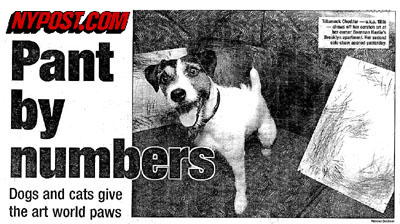 PANT BY NUMBERS

Sunday, October 22,2000
By JULIA SZABO
---
Anyone who's ever visited a gallery or museum and thought, "Hey, my pet could do that," won't be surprised at the newest art trend: dogs and cats that paint.
Yesterday, at the 105 DeVoe Gallery in the heavily artist-populated Williamsburg area of Brooklyn, a Jack Russell terrier named Tillamook Cheddar hosted an art opening, her second solo show.
On display were about 30 abstract images, which the canine artist achieves by scratching and digging at color transfer paper. Her efforts leave red, yellow, blue or black marks on a "canvas" that's actually a piece of white matboard placed underneath the transfer paper.
Tillie, as she's known, is named after a popular brand of Oregon cheddar, but the impressive results of the 16-pound artist's efforts are anything but cheesy. Ranging in price from $75 to $150, they've prompted comparisons to modern masters Cy Twombly and Willem de Kooning.
Her next opening will be in Manhattan in early December, at the lobby exhibition space at 176 Grand St.
"I don't guide her paws at all," says Tillie's assistant (and owner), Bowman Hastie. "But I do need to rein her in sometimes, to prevent her from destroying the work. She digs so furiously, she's torn some corners off pieces in the process of making them."
Hastie attributes Tillie's creative diligence to the fact that she's a terrier, a type of dog known for its tenacious digging ability. "Tillie is super-focused when she works," Hastie says. "It's like she enters a trance."
Tillie frequently attends gallery openings and is expert at networking. Her fans include such hip young (and human) artists as the controversial Tom Sachs, whose use of live bullets in his most recent show led to the arrest of his art dealer, Mary Boone.
Sachs owns several Tillies, as does artist Phil Frost, who met the canine art star when she attended his recent opening at Chelsea's trendy Jack Shainman Gallery. Tillie also has a Web site, www.tillamookcheddar.com.
Artistic expression isn't limited to canines. "Why Cats Paint: A Theory of Feline Aesthetics" (Ten Speed Press, $16.95) is a best-selling book whose authors, Heather Busch and Burton Silver, claim that many cats enjoy expressing themselves artistically.
Its pages are filled with photographic proof of creative felines using their paws to make bold, abstract artworks reminiscent of the work of Jackson Pollock.
Dogs and cats aren't alone. Animals of various species possess artistic talents just waiting to be unleashed.
The Russian-born artists Vitaly Komar and Alex Melamid, a.k.a. Komar and Melamid, are renowned for their creative collaborations with animals, including dogs and beavers. They believe that animals, when given a creative outlet, really do become artists.
"In Moscow, we gave a Polaroid camera to a chimpanzee," Komar explains. "When he looked at the photo he took, he understood the connection between the picture and the reality. He became an artist at that moment."
Next fall, HarperCollins will publish the duo's "When Elephants Paint," with an introduction by Dave Eggers. The book documents what happens when a paintbrush is placed in a pachyderm's trunk.
"The elephant is the biggest artist in the world." Komar says. "Bigger than Picasso!"
Works by Tillamook Cheddar will stay up through Nov. 11 at 105 DeVoe, 105 DeVoe St., Brooklyn. Gallery hours: Saturdays from 3 to 6 p.m.; call (718) 398-6956 for information